Sci-Fi Book Club: A Master of Djinn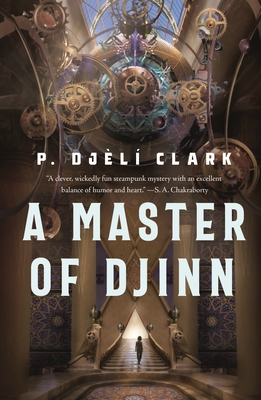 This month, the Sci-Fi Book Club will read A Master of Djinn by P. Djeli Clark.
Register for this virtual meeting on our Eventbrite page!
Cairo, 1912: Though Fatma el-Sha'arawi is the youngest woman working for the Ministry of Alchemy, Enchantments and Supernatural Entities, she's certainly not a rookie, especially after preventing the destruction of the universe last summer.

So when someone murders a secret brotherhood dedicated to one of the most famous men in history, al-Jahiz, Agent Fatma is called onto the case. Al-Jahiz transformed the world forty years ago when he opened up the veil between the magical and mundane realms, before vanishing into the unknown. This murderer claims to be al-Jahiz, returned to condemn the modern age for its social oppressions. His dangerous magical abilities instigate unrest in the streets of Cairo that threaten to spill over onto the global stage.

Alongside her Ministry colleagues and a familiar person from her past, Agent Fatma must unravel the mystery behind this imposter to restore peace to the city—or face the possibility he could be exactly who he seems…
Anyone is welcome to join our Science Fiction Book Club, led by Brooke, who is excited to share her passion for diverse science fiction books. If you haven't looked at the science fiction or fantasy shelves in a while, you may be surprised at the influx of talented women, POC, and LGBTQ+ writers that are writing some of the most interesting and compelling works in the genres. Brooke's goal is to highlight these traditionally underrepresented groups. Each month, we'll explore a new read from a diverse SF/F author. Stop by the store to chat with Brooke if you want more info about the club, or send her an email at brooke@bookendsandbeginnings.com.
Event date:
Thursday, July 29, 2021 -

6:00pm

to

7:00pm
Event address:
1712 Sherman Avenue, Alley #1

$27.99

ISBN: 9781250267689
Availability: On Our Shelves Now
Published: Tordotcom - May 11th, 2021
---