Sci-Fi Book Club: A Marvellous Light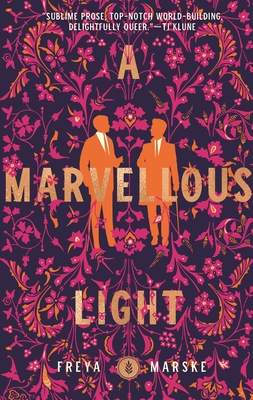 This month, the Sci-Fi Book Club will read A Marvellous Light by Freya Marske.
Red, White & Royal Blue meets Jonathan Strange & Mr. Norrell in debut author Freya Marske's A Marvellous Light, featuring an Edwardian England full of magic, contracts, and conspiracies.
Robin Blyth has more than enough bother in his life. He's struggling to be a good older brother, a responsible employer, and the harried baronet of a seat gutted by his late parents' excesses. When an administrative mistake sees him named the civil service liaison to a hidden magical society, he discovers what's been operating beneath the unextraordinary reality he's always known.
Now Robin must contend with the beauty and danger of magic, an excruciating deadly curse, and the alarming visions of the future that come with it—not to mention Edwin Courcey, his cold and prickly counterpart in the magical bureaucracy, who clearly wishes Robin were anyone and anywhere else.
Robin's predecessor has disappeared, and the mystery of what happened to him reveals unsettling truths about the very oldest stories they've been told about the land they live on and what binds it. Thrown together and facing unexpected dangers, Robin and Edwin discover a plot that threatens every magician in the British Isles—and a secret that more than one person has already died to keep.
Anyone is welcome to join our Science Fiction Book Club, led by Brooke, who is excited to share her passion for diverse science fiction books. If you haven't looked at the science fiction or fantasy shelves in a while, you may be surprised at the influx of talented women, POC, and LGBTQ+ writers that are writing some of the most interesting and compelling works in the genres. Brooke's goal is to highlight these traditionally underrepresented groups. Each month, we'll explore a new read from a diverse SF/F author. Stop by the store to chat with Brooke if you want more info about the club, or send her an email at brooke@bookendsandbeginnings.com.
Event date:
Thursday, January 27, 2022 -

7:00pm

to

8:00pm

$27.99

ISBN: 9781250788870
Availability: Usually Ships in 1-5 Days
Published: Tordotcom - November 2nd, 2021
---