Sci-Fi Book Club: Light From Uncommon Stars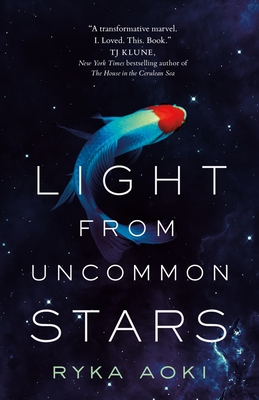 Register for this online meeting on our Eventbrite page!
Good Omens meets The Long Way to a Small, Angry Planet in Ryka Aoki's Light From Uncommon Stars, a defiantly joyful adventure set in California's San Gabriel Valley, with cursed violins, Faustian bargains, and queer alien courtship over fresh-made donuts.
Shizuka Satomi made a deal with the devil: to escape damnation, she must entice seven other violin prodigies to trade their souls for success. She has already delivered six.
When Katrina Nguyen, a young transgender runaway, catches Shizuka's ear with her wild talent, Shizuka can almost feel the curse lifting. She's found her final candidate.
But in a donut shop off a bustling highway in the San Gabriel Valley, Shizuka meets Lan Tran, retired starship captain, interstellar refugee, and mother of four. Shizuka doesn't have time for crushes or coffee dates, what with her very soul on the line, but Lan's kind smile and eyes like stars might just redefine a soul's worth. And maybe something as small as a warm donut is powerful enough to break a curse as vast as the California coastline.
As the lives of these three women become entangled by chance and fate, a story of magic, identity, curses, and hope begins, and a family worth crossing the universe for is found.
Anyone is welcome to join our Science Fiction Book Club, led by Brooke, who is excited to share her passion for diverse science fiction books. If you haven't looked at the science fiction or fantasy shelves in a while, you may be surprised at the influx of talented women, POC, and LGBTQ+ writers that are writing some of the most interesting and compelling works in the genres. Brooke's goal is to highlight these traditionally underrepresented groups. Each month, we'll explore a new read from a diverse SF/F author. Stop by the store to chat with Brooke if you want more info about the club, or send her an email at brooke@bookendsandbeginnings.com.
Event date:
Thursday, December 9, 2021 -

7:00pm

to

8:00pm

$25.99

ISBN: 9781250789068
Availability: On Our Shelves Now
Published: Tor Books - September 28th, 2021
---