Kevin Boyle in Conversation with Peter Slevin: The Shattering: America in the 1960s
A book launch event co-sponsoredwith the Evanston Public Library. Join us for this fascinating discussion of 1960s America and book signing.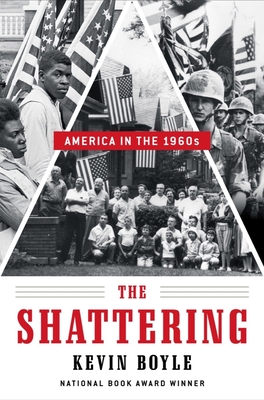 Covering the late 1950s through the early 1970s, The Shattering focuses on the period's fierce conflicts over race, sex, and war. The civil rights movement develops from the grassroots activism of Montgomery and the sit-ins, through the violence of Birmingham and the Edmund Pettus Bridge, to the frustrations of King's Chicago campaign, a rising Black nationalism, and the Nixon-era politics of busing and the Supreme Court. The Vietnam war unfolds as Cold War policy, high-stakes politics buffeted by powerful popular movements, and searing in-country experience. Americans' challenges to government regulation of sexuality yield landmark decisions on privacy rights, gay rights, contraception, and abortion.
Kevin Boyle captures the inspiring and brutal events of this passionate time with empathy that restores the humanity of those making this history.
Kevin Boyle is a professor of history at Northwestern University. His previous book, Arc of Justice, won the National Book Award for non-fiction and was a finalist for the Pulitzer Prize. His essays and reviews have appeared in The Washington Post, the New York Times, the Baltimore Sun, the Chicago Tribune, the Detroit Free Press, and other newspapers and magazines. He and his wife, Victoria Getis, live in Evanston with their exuberant one-year old Australian shepherd and, from time to time, with their marvelous daughters, Abby and Nan.
Peter Slevin is a professor at the Medill School of Journalism and a contributing writer for The New Yorker. He spent a decade on the national staff of The Washington Post before moving to Northwestern, where he teaches courses on politics, the media, and foreign policy. He has reported from dozens of countries and covered political campaigns and policy debates from one end of the country to the other. His portrait of Michelle Obama – Michelle Obama: A Life - was a finalist for the PEN America biography prize. He lives with his family in Evanston, where his wife, Kate Masur, is a Northwestern history professor.
Event date:
Thursday, December 2, 2021 -

5:30pm

to

6:30pm
Event address:
1703 Orrington Ave
Main Library, Community Meeting Room