HOSTED BY EDGEWATER LIBRARY: The Watergate Girl Goes to the Library: Jill Wine-Banks in Conversation with Nina Barrett
Author of The Watergate Girl, Jill Wine-Banks goes to the library and celebrates National Library Week in conversation with store owner Nina Barrett, author of The Leopold and Loeb Files: An Intimate Look at One of America's Most Infamous Crimes.
Be a fly on the wall to hear these two authors discuss books, writing, politics, history, their love of libraries, and more! Register now.
Jill Wine-Banks is currently an MSNBC Legal Analyst, appearing regularly on primetime and daytime shows. A sought-after speaker, Jill appears before professional, political, women's, and business groups, universities, and law schools. In addition, Jill has written OpEds for the NBC.com, Chicago Tribune, Washington Post, Politico, and Huffington Post. She has also been featured in several documentaries and films, including Academy Award winner Charles Ferguson's Watergate, or How We Learned to Stop an Out of Control President.
Jill began her career as the first woman to serve as an organized crime prosecutor at the U.S. Department of Justice in Washington, D.C. After just over four years, her trial capabilities and win record led to her selection as one of the three Assistant Watergate Special Prosecutors, where she was again the only woman, in the obstruction of justice trial against President Nixon's top aides, including his Attorney General, Chief of Staff, and Chief Domestic Adviser. Her team delivered a briefcase of evidence to the House Judiciary Committee as a road map to impeachment. She was also a major player in the Watergate tapes hearing, cross-examining Rose Mary Woods, President Nixon's secretary, about the 18 ½ minute gap in a key White House recording.
It was a time, much like today, when Americans feared for the future of their democracy and women stood up for equal treatment. At the crossroads of the Watergate scandal and the women's movement stood a young lawyer named Jill Wine Volner (as she was then known), barely thirty years old and the only woman on the team that prosecuted the highest-ranking White House officials. Called "the mini-skirted lawyer" by the press, she fought to receive the respect accorded her male counterparts―and prevailed. Register now.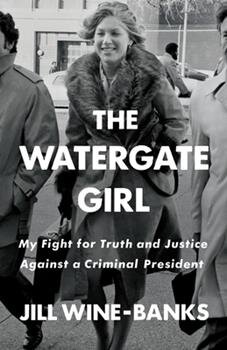 In The Watergate Girl, Jill Wine-Banks takes us inside this troubled time in American history, and it is impossible to read about the crimes of Richard Nixon and the people around him without drawing parallels to today's headlines. The book is also the story of a young woman who sought to make her professional mark while trapped in a failing marriage, buffeted by sexist preconceptions, and harboring secrets of her own. At once a cautionary tale and an inspiration for those who believe in the power of justice and the rule of law, The Watergate Girl is a revelation about our country, our politics, and who we are as a society.
Nina is the owner of Bookends & Beginnings. In July of 2018, Nina published The Leopold and Loeb Files: An Intimate Look at One of America's Most Infamous Crimes (Agate Publishing), a book that was praised by Rick Kogan in the Chicago Tribune for its "astonishing and compelling detail." Nina often gives talks about the case and its ongoing relevance and fascination to a 21st-century audience. She has been a guest speaker for Friends of the Edgewater Library on several occasions and a wonderful supporter of our programming.
This event is sponsored by Friends of the Edgewater Library in partnership with the Edgewater Branch Library Bookends & Beginnings.
Register now. You will receive a link 3-5 days before this event. We will be recording this event.
Event date:
Thursday, April 8, 2021 -

6:30pm

to

7:30pm
Event address:
1712 Sherman Avenue, Alley #1

$17.99
ISBN: 9781250782205
Availability: On Our Shelves Now
Published: St. Martin's Griffin - March 2nd, 2021
---