WE HAVE MOVED and are no longer in our alley location. You can now find us at
1620 Orrington Ave
Evanston, IL 60201
Personal Space Camp (Paperback)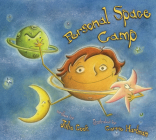 $10.95

Usually Ships in 1-5 Days
Description
---
Teaching children the concepts of personal space.
Louis is back And this time, he's learning all about personal space. When Louis, the world's self-proclaimed space expert, is invited to Personal Space Camp by the school principal, he soon learns that personal space really isn't about lunar landings, Saturn's rings, or space ice cream.
Written with style, wit, and rhythm, Personal Space Campaddresses the complex issue of respect for another person's physical boundaries. Told from Louis' perspective, this story is a must have resource for parents, teachers, and counselors who want to communicate the idea of personal space in a manner that connects with kids.
About the Author
---
Julia Cook, M.S. is a national award-winning children's author, counselor, and parenting expert. She has presented in thousands of schools nationally and internationally, regularly speaks at education and counseling conferences, and has published children's books on a wide range of character and social development topics. The goal behind Cook's work is to actively involve young people in fun, memorable stories and teach them to become lifelong problem solvers. Inspiration for her books comes from working with children and carefully listening to counselors, parents, and teachers, in order to stay on top of needs in the classroom and at home. Cook has the innate ability to enter the worldview of a child through storybooks, giving children both the what to say and the how to say it.Carrie Hartman is an award-winning illustrator who's work includes: editorial, children's books and book illustration, character development, advertising, posters, greeting cards, comic books, stationary, and animation projects. She is a graduate of the Minneapolis College of Art & Design, where she is currently a member of the design faculty teaching illustration.