Central America's Forgotten History: Revolution, Violence, and the Roots of Migration (Compact Disc)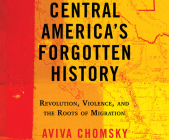 $34.99
Email or call for price.
Description
---
While Central American migration is widely discussed, the histories and realities of Central America that were well known several decades ago and continue to profoundly shape the region today are virtually erased from social memory. At the center of the American immigration debate are migrants from Central America fleeing corruption and violence in search of asylum in the United States. However, when we discuss these migrants, we often fail to acknowledge the circumstances and ongoing effects of Central America's historical political strife. In Central America's Forgotten History, Aviva Chomsky expertly connects the erasure of history to the current influx of Central Americans to the United States today and shows how their past and present invisibility are directly related to the factors that cause them to migrate, that result in their labor being exploited, and that allow that exploitation to be justified. Tracing the roots of displacement and migration in Central America to the Spanish conquest, Chomsky answers the urgent question of How did we get here? Ultimately, she concludes that the more immediate roots of migration from the three Northern Triangle countries (El Salvador, Guatemala, and Honduras) lie in the wars and U.S. interventions of the 1980s, which spurred refugee streams and set the stage for increased U.S. presence, and the peace accords in the 1990s, which set the stage for neoliberalism in Central America.