WE HAVE MOVED and are no longer in our alley location. You can now find us at:
1620 Orrington Ave
Evanston, IL 60201
NEW HOURS
Sun-Tues 10am-6pm
Wed-Sat 10am-8pm
Disney Princess Baking Gift Set Edition: 60+ Royal Treats Inspired by Your Favorite Princesses, Including Cinderella, Moana & More (Mixed media product)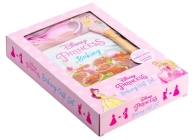 Description
---
This deluxe gift set includes an exclusive rubber spatula, a set of measuring spoons, and the Disney Princess Baking cookbook, packed with delicious recipes inspired by your favorite animated heroines, including Belle, Ariel, Moana, and more!

Baking has never been so magical with this charming cookbook gift set featuring over 60 tasty, easy-to-follow recipes inspired by the Disney princesses. From delicate buttery cookies to fancy, decadent cakes, this cookbook includes all manner of delicious Disney-themed treats. Whip up a batch of Tiana's Famous Beignets. Make a cake inspired by Walt Disney's classic princess castle. Be a part of Ariel's world with her seashell-inspired almond cookies.

Also included are an exclusive, never-before-seen Disney Princess rubber spatula and set of measuring spoons unavailable anywhere else! Featuring full-color photography, suggestions for alternate ingredients, and tips and tricks from some of your favorite characters, this all-ages cookbook is the perfect way to bring friends and family together with a little Disney baking magic.

60 RECIPES: Magically delicious treats make every occasion a royal celebration, from Jasmine Magic Carpet Cookies to Tiana King Cake to Mulan Great Stone Dragon Buns.

ALL YOUR FAVORITE PRINCESSES: Dozens of images about favorite Disney Princesses including Ariel from The Little Mermaid, Aurora from Sleeping Beauty, Belle from Beauty and the Beast, Tiana from The Princess and the Frog, and Jasmine from Aladdin, as well as Rapunzel, Merida, Moana, Cinderella, Snow White, Mulan, and Pocahontas.

EXCLUSIVE RUBBER SPATULA AND MEASURING SPOONS: Including a high-quality rubber spatula and set of measuring spoons, this gift set is a great value for Disney Princess fans.

BEAUTIFUL PHOTOS: Gorgeous color photos help ensure success!

FOR FANS OF ALL AGES: A variety of recipes from easy to complex for every taste and skill level.
About the Author
---
Celebrated for its unwavering dedication to quality, Insight Editions is a publisher of innovative books, journals, and collectibles that push the boundaries of creativity, design, and production. Through its acclaimed film, television, and gaming program, Insight strives to produce unique books and products that provide new ways to engage with fan-favorite characters and stories. Under the program, Insight has published books covering the worlds of Star Wars, Game of Thrones, The Walking Dead, Destiny, Assassin's Creed, Halo, Diablo, World of Warcraft, and the Harry Potter films, among many others. Insight's award-winning art, photography, and sports titles celebrate the artistry and legacy of a wide range of subjects that include John Lennon, Kurt Cobain, Johnny Cash, and The Rolling Stones.

By combining rich subject matter, striking visuals, and exclusive content with imaginative design and production, Insight Editions strives to create unique keepsakes that celebrate the best in pop culture and make one-of-a-kind gifts for fans of all ages.