A Bed of Stars (Hardcover)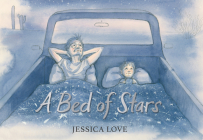 Description
---
A tender new story from the award-winning creator of Julián Is a Mermaid celebrates first-time camping, father-child bonding, and feeling at one with the universe.

"We're going camping, you and me."
"Where?" I ask.
"The desert," says Dad . . . "To shake hands with the universe."

Going to bed each night can be dark and scary. The night sky stretches out endlessly, making one sensitive child feel small in comparison. So Dad comes up with a plan: a night of camping out in the desert. Together, the two load up Darlin', the old pickup truck, and drive over the mountain with the radio on, stopping to shoot the breeze at a junkyard before setting up camp, jumping in sand dunes, and lying back to name all the birds they can see. After sunset, when the young thinker feels tiny against the vast sky, Dad knows just what to ask—and just what to say—to soothe away fears. Maybe this night spent under the stars (and a surprise from Mom and the baby later) are just what is needed to show that the universe is a friendly place. From acclaimed author-illustrator Jessica Love comes a story of small moments between father and child that affirms the comfort of finding one's place in the world.
About the Author
---
Jessica Love is an actor and the author-illustrator of Julián Is a Mermaid and Julián at the Wedding. She has a BA in studio art from the University of California, Santa Cruz, as well as a graduate degree from Juilliard. She has appeared in plays both on and off Broadway. Jessica Love lives in Rhinebeck, New York.
Praise For…
---
A perfect bedtime book for the young rambler in your life who is feeling a little overwhelmed.
—The TODAY Show

When the child confesses to being frightened by "how big the universe is and how it goes on forever and ever," Dad knows just what to say. . . . It's a gem of a moment, an example of the way a parent can hear and transform a child's fear. . . . Mom shares another surprise in this tender story about learning to approach that which feels unknown.
—Publishers Weekly (starred review)

At breakfast, our protagonist's father announces that they are going camping in the desert. Why? "To shake hands with the universe," says Dad. . . . It's a heavy contemplation of the very nature of being, and yet Love makes it entirely kid-friendly. A gentle specificity easily merges the conceptual with the corporeal. . . . Young listeners who tend to be more introspective than rambunctious will appreciate this soothing rumination on the nature of existence and the accepting of the unknowable.
—The Bulletin of the Center for Children's Books (starred review)

Love (Julián Is a Mermaid, 2018) offers up a relatable, young protagonist seeking security and safety in the surrounding world. The watercolor, gouache, and ink illustrations privilege evening blues and desert earth tones that are enlivened by splashes of pink and green depicting flora, sunrises and sunsets, and clothing. . . A reassuring look at our place in the universe.
—Booklist

Under the desert night sky, Dad helps his child find cosmic comfort. . . . A lovely vision for small, sensitive existentialists.
—Kirkus Reviews

Love's watercolor, gouache, and ink illustrations include both factual information (the steps to build a fire) and warm, loving scenes of the father and child together. . . . The desire for one-on-one attention from a parent is one many children will relate to.
—The Horn Book

A desert camping trip reassures a child about their place in an immense universe in this gentle, comforting picture book. . . . Love narrates from the child's perspective in straightforward, earnest prose. . . . An earthy color palette and a soft, hazy quality to the linework and shading give the book a comforting, well-worn feel, while layered blues and purples create a majestic image of a star-studded night sky. The strongest element in A Bed of Stars is the calm, simple way in which the father makes the immense and overwhelming universe less frightening and more enchanting. . . a natural fit for bedtime or any situation that calls for reassurance. Love offers a moving reminder that learning can help us face our fears, move with confidence and find our place in the world.
—BookPage

In an essential book about facing almost any kind of fear, the creator's ability to honor those fears without making them the entire focus is truly remarkable and renders a universal appeal.
—School Library Journal

The universe is all around us and the stars are there every night to shine for us is the message Dad seeks to share with his young child who is afraid of the dark. . . .This is a warm story about driving away bedtime fears. The soft sketches and use of colors enhance each scene and informational labels are applied during the teaching moments of the story.
—School Library Connection

[A] lovely celebration of life's wonders.
—The Buffalo News

This is a wonderful picture book about father-child bonding and feeling at home with the universe.
—The Omaha World-Herald

This story by a New York-based actor and author/illustrator is one of the best of the season. . .This story would be perfect for kids who are between picture books and reading by themselves.
—The Pioneer Press