WE HAVE MOVED and are no longer in our alley location. You can now find us at
1620 Orrington Ave
Evanston, IL 60201
Black Ops: The Life of a CIA Shadow Warrior (CD-Audio)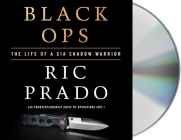 $50.99
Email or call for information
Description
---
A memoir by the highest-ranking covert warrior to lift the veil of secrecy and offer a glimpse into the shadow wars that America has fought since the Vietnam Era.

Enrique Prado found himself in his first firefight at age seven. The son of a middle-class Cuban family caught in the midst of the Castro Revolution, his family fled their war-torn home for the hope of a better life in America. Fifty years later, the Cuban refugee retired from the Central Intelligence Agency as the CIA equivalent of a two-star general. Black Ops is the story of Ric's legendary career that spanned two eras, the Cold War and the Age of Terrorism. Operating in the shadows, Ric and his fellow CIA officers fought a little-seen and virtually unknown war to keep USA safe from those who would do it harm.

After duty stations in Central, South America, and the Philippines, Black Ops follows Ric into the highest echelons of the CIA's headquarters at Langley, Virginia. In late 1995, he became Deputy Chief of Station and co-founding member of the Bin Laden Task Force. Three years later, after serving as head of Korean Operations, Ric took on one of the most dangerous missions of his career: re-establish a once-abandoned CIA station inside a hostile nation long since considered a front line of the fight against Islamic terrorism. He and his team carried out covert operations and developed assets that proved pivotal in the coming War on Terror.

A harrowing memoir of life in the shadowy world of assassins, terrorists, spies and revolutionaries, Black Ops is a testament to the courage, creativity and dedication of the Agency's Special Activities Group and its elite shadow warriors.

A Macmillan Audio production from St. Martin's Press
About the Author
---
RIC PRADO has received many awards over the course of his twenty-four year career in the Central Intelligence Agency, including the CIA's Distinguished Career Intelligence Medal (highest award given upon retirement) and the George H. W. Bush Award for Excellence in Counterterrorism, among others.
Scott Brick first began narrating audiobooks in 2000, and after recording almost 400 titles in five years, AudioFile magazine named Brick a Golden Voice and "one of the fastest-rising stars in the audiobook galaxy." He has read a number of titles in Frank Herbert's bestselling Dune series, and he won the 2003 Science Fiction Audie Award for Dune: The Butlerian Jihad. Brick has narrated for many popular authors, including Michael Pollan, Joseph Finder, Tom Clancy, and Ayn Rand. He has also won over 40 AudioFile Earphones Awards and the AudioFile award for Best Voice in Mystery and Suspense 2011. In 2007, Brick was named Publishers Weekly's Narrator of the Year.

 Brick has performed on film, television and radio. He appeared on stage throughout the United States in productions of Cyrano, Hamlet, Macbeth and other plays. In addition to his acting work, Brick choreographs fight sequences, and was a combatant in films including Romeo and Juliet, The Fantasticks and Robin Hood: Men in Tights. He has also been hired by Morgan Freeman to write the screenplay adaptation of Arthur C. Clarke's Rendezvous with Rama.
Praise For…
---
"Ric Prado is an American original, a shadow warrior whose combat and street skills actually live up to Hollywood's spy movie fantasies. Any story of his life and his C.I.A. career will stand out in the genre of such memoirs and biographies, not only because of Ric's outsized experiences, but because his adventurous work included some of the most important covert actions in recent Agency history." —Steve Coll, New York Times bestselling author of GHOST WARS and DIRECTORATE S and winner of the Pulitzer Prize

"Ric Prado is a rare breed of CIA officer—a man as comfortable operating behind enemy lines in disguise as he is strolling the halls of power in a suit. Having interviewed numerous of Prado's Agency colleagues, I understand him to be a badass paramilitary operations officer and a sharp-thinking member of the Agency's Senior Intelligence Service elite. Further adding to Ric Prado's unique and complex character is his ability to discuss his flaws, weaknesses, and struggles, as well as his myriad of strengths. He reminds me of an ancient warrior-poet, the kind who reads haiku before going into battle with a very sharp sword." —Annie Jacobsen, New York Times bestselling author of AREA 51 and SURPRISE, KILL, VANISH

"Ric Prado is a legendary CIA Operations Officer who gave almost three decades of exceptional service to his country in the most challenging foreign assignments, including the potential risk of immediate physical danger. He has lived his personal and professional life exhibiting the highest standards of character, ethics, principle, courage, and heroism. Ric and I served together in CTC, where he was my Chief of Operations and Chief of Station. He achieved the CIA rank equivalent of military general. No stay-at-home bureaucrat, Ric always sought out and served in harm's way with exceptional dedication and courage." —Cofer Black, former Director, CIA Counterterrorist Center

"Enrique 'Ric' Prado is an American hero, having served his country loyally for decades in tough places, spying and fighting against tough enemies, from North Korean subversives to al Qaeda terrorists. He entered the CIA's Clandestine Service as an operations officer in the early 1980s-and immediately joined the front lines in the hot battles of the Cold War. Working his way through the ranks, he recruited and ran spies throughout the globe. He designed and led some of the Agency's most creative and successful operations against the hardest targets. When I departed the CIA's Counterterrorist Center, responsible for all worldwide operations, I sought out Ric as the one and only candidate to replace me. The CIA's leadership enthusiastically endorsed my recommendation. Ric did not disappoint, rallying and directing the Center's resources after the 9/11 attacks and soon thereafter embracing some of the most risky leadership challenges, both operationally and politically, in recent history. He stands alone in many respects, for his daring and his dedication to the mission. His story is an operational adventure, but more, an example of a young immigrant who embraces America and devotes his life to making his new country even better. A man of towering integrity and determination, he bears honest witness to his trials, successes, failures, and his great, enduring love for America." —Ambassador Henry A. Crumpton, former Director of Operations, CIA Counterterrorist Center, author of THE ART OF INTELLIGENCE

"In addition to being a loyal, trusted and highly esteemed colleague and friend, Ric is one of the best intelligence officers that I worked with in my thirty-year career at CIA. Whether in the jungles of South and Central America or the dangerous and challenging operational environments of North Africa or in the modern capital cities in Asia or Europe, Ric excelled in his chosen craft. His operational exploits are legendary, especially in targeting insurgents and terrorists around the globe. His background in paramilitary operations combined with his expertise in classic espionage made him uniquely qualified to tackle some of the most challenging operational requirements in the modern era. Ric is one of the best operations officers of his generation. His exploits helped protect the Homeland and saved American lives in the post 9/11 era. He is the real deal." —Jose Rodriguez, former Director, National Clandestine Service, author of HARD MEASURES