The Kids' Book of Chess and Chess Set (Paperback)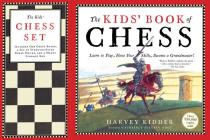 Description
---
A direct, lively introduction to the game that's inspired passion and challenge for over 900 years—for kids ages 8-12.

Everything a child needs to learn how to play chess, hone your skills, and become a grandmaster, including a custom-designed chess board and full set of 32 chess pieces! A 96-page book leads kids through the fundamentals of beginning, middle, and end game, and shows winning strategies for offense and defense. Full-color fantasy art captures the energy and excitement of chess's origins—the medieval battlefield. Over 1 million copies in print. For ages 8-12.
About the Author
---
Harvey Kidder was a highly-renowned author, artist and illustrator. His popular book, "The Kids' Book of Chess", was originally written for his son and has been in print for over thirty years.

Illustrator Kimberly Bulcken Root is a graduate of Parsons School of Design. She made her picture book debut with A Bed for the Wind. Her illustrations have appeared in The Nation, Forbes, and The Wall Street Journal. She and her husband, the illustrator Barry Root, live in Lancaster, Pennsylvania.