WE HAVE MOVED and are no longer in our alley location. You can now find us at
1620 Orrington Ave
Evanston, IL 60201
Nuestra América Memory Game (Game)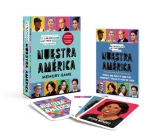 Description
---
Celebrate influential Latinas and Latinos in U.S. history with Nuestra América Memory Game, a fully illustrated, bilingual matching game from the National Museum of the American Latino.
SPECIFICATIONS: This memory game includes 25 matched pairs of full-color cards (2 1/2 X 3 1/2 inches, 50 cards total, 25 portrait cards and 25 phrase cards) and an illustrated booklet in a two-piece, shrink-wrapped box. 
FULL-COLOR ILLUSTRATED PACKAGE: Gift-worthy package is printed in full-color (box, cards, booklet) and features beautiful portraits by artist Gloria Félix.
BOOK INCLUDED: This set includes a fully illustrated 32-page, paperback booklet (3 1/4 X 4 3/4 inches) that highlights inspiring quotes and contributions from 25 Latinas/os throughout U.S. history, as well as game play instructions.
BILINGUAL GAME: All game text, including rules, quotations, and profiles, is presented in both English and Spanish. 
FEATURES 25 NOTABLE FIGURES: Sylvia Acevedo, Luis Walter Álvarez, Pura Belpré, Julia de Burgos, César Chávez, Sandra Cisneros, Roberto Clemente, Celia Cruz, Olga Custodio, Jaime Escalante, Emma González, Laurie Hernández, Juan Felipe Herrera, Dolores Huerta, Óscar de la Renta, Jennifer Lopez, Sylvia Mendez, Lin-Manuel Miranda, C. David Molina, Rita Moreno, Ellen Ochoa, Jorge Ramos, Sylvia Rivera, María Elena Salinas, and Sonia Sotomayor.
About the Author
---
The Smithsonian's National Museum of the American Latino is the keystone to learning how Latinos inform and shape art, history, culture, and science in the United States. The Museum shares the Latino experience through a robust program of scholarly research, exhibitions, public events, digital content, collections, resources, and more.

Gloria Félix was born and raised in Uruapan, a beautiful small city in Michoacán, Mexico, one of her biggest inspirations when it comes to Art. Her favorite things to do growing up were drawing, watching cartoons, and eating, which still are some of her favorite things to do. Currently, she lives and paints in Los Angeles.