Turner Classic Movies Ultimate Movie Trivia Challenge: 400+ Questions to Test Your Knowledge (Cards)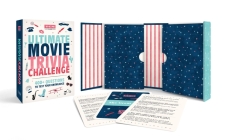 Description
---
From Turner Classic Movies, this fun and challenging game offers film lovers 400 questions to test their movie knowledge! Set includes:
TRIVIA DECK: 100 full-color printed cards filled with trivia questions (4 per card)
RANGE OF ERAS AND SUBJECTS: Questions on film history encompass a range of subjects from behind the scenes as well as the stars and stories that have lit up the screen from the silent era through modern times; cards measure 3 x 5 inches
KEEPSAKE BOX: Cards are house in full-color printed keepsake box with magnetic closure
ENTERTAIN LIKE A PRO: This game works for solo play as well as groups of 2, 3, or more
PERFECT GIFT: A movie lover's dream deck
TURNER CLASSIC MOVIES: Trivia from the film buff's network
About the Author
---
Frank Miller is the author of several books on film, including Casablanca: As Time Goes By, Censored Hollywood, and the award-winning eScript Classics: North by Northwest. Among his favorite movies are Citizen Kane, The Thing (from Another World), and anything by Sam Fuller. His upcoming works include a show based on the writings of playwright John Herbert and a study of the films of Dario Argento. He lives in Clemmons, North Carolina.

Turner Classic Movies (TCM) is a two-time Peabody Award-winning network that presents classic films, uncut and commercial-free, from the largest film libraries in the world highlighting "where then meets now." TCM features the insights from Primetime host Ben Mankiewicz along with hosts Alicia Malone, Dave Karger, Jacqueline Stewart and Eddie Muller, plus interviews with a wide range of special guests and serves as the ultimate movie lover destination. With more than two decades as a leading authority in classic film, TCM offers critically acclaimed series like The Essentials, along with annual programming events like 31 Days of Oscar® and Summer Under the Stars. TCM also directly connects with movie fans through popular events such as the annual TCM Classic Film Festival in Hollywood, the TCM Big Screen Classics screening series, and the TCM Classic Cruise. In addition, TCM produces the wildly successful podcast "The Plot Thickens," which has had more than 6 million downloads to date. TCM hosts a wealth of material online at tcm.com and through the Watch TCM mobile app. Fans can also enjoy a classic movie experience on the Classics Curated by TCM hub on HBO Max.