Urban Diversion, by Oak Oak. Omaké Books (France). Trilingual French/Japanese/English. $27.50.
Jeff says: Oak Oak is a street artist from St. Etienne in France whose medium is the wasteland of modern cities—not the glamorous downtowns, but the monotonous, crumbling banlieues. Here he finds the potential for humor, for humanity, for art. Like Banksy, if caught he would surely be arrested for "defacing" public spaces, but in fact it's the opposite: he puts a human face on them. Urban Diversion was suggested to us by a customer, Carolyn Phelan, but alas, there were no copies of this book obtainable in the United States. So we scavanged a few copies from a bookstore in Germany and are making them available in our store. A children's book? Absolutely!
Wie war das am Anfang ​by Heinz Janisch, illustrated by Linda Wolfsgruber
Jeff says: Austrian writer Heinz Janisch is one of the most prolific and versatile writers for children in German-speaking Europe. In Wie war das am Anfang . . . ("What happened back when . . . "), his poetic text is paired with the equally evocative images of artist Linda Wolfsgruber to answer a child's question: why was I born a human child instead of as a tree, a polar bear, a leaf, or a boulder? It is as gentle an introduction into the broadest questions of life--and the power of poetry--as a parent might wish for a child, and as a child might hope to read or have read to her. Ages 2 - 8. $15.
LIMPOPO translated by Nathan Alterman, illustrated by Shimon Tsabar

Jeff says: We've just received a selection of Israeli children's books of the last 50 years, with profuse thanks to our friends Gili Bar-Hillel Semo and Dani Segman. Each is notable in a different way, but the first one of these has an especially interesting history. This is LIMPOPO, from 1966, and it is based on a Hebrew translation by the famous poet Nathan Alterman of Korney Chukovsky's Russian adaptation of Hugh Lofting's Dr. Dolittle from 1920. The illustrator is Shimon Tsabar. $18.
Pepelka (Cinderella) by Jacob and Wilhelm Grimm, illustrated by Alenka Sottler

Jeff says: Alenka Sottler is an innovative Slovenian illustrator of children's books, raised in an economy of scarcity which forced her to use scrap paper, pencils, and other cast-off materials to create her art. The style—or styles—of youthful experiments continue to characterize her work today, put on display now in over 50 published books for children. This prizewinning version of Cinderella (Mladinska knjiga, 2005, 2006) shows the crosshatch technique she mastered as a child. The highly stylized human figures look crafted as if on a lathe. Other works of hers (several of which are available at Bookends & Beginnings) are typographic fantasies, reflecting the fact that her mother worked in a print shop and would bring home random stacks of printed newspaper pages for young Alenka to play with. Although Sottler is a member of the New York Society of Illustrators, her works are unavailable in English translation. She lives in Ljubljana. $18.
(SOLD)
El pájaro enjaulado by Vincent van Gogh and Javier Zabala
Jenny says: El pájaro enjaulado by Vincent van
Gogh and Javier Zabala (Grupo Editorial Luis Vivas, 2013) is based on a letter written by Vincent to his brother Theo in July 1880. Expressing his own desires, van Gogh poignantly tells a parable of a caged bird that dreams of being free. Zabala, winner of the 2005 Premio Nacional de Ilustración and finalist for the 2012 Hans Christian Andersen Awards, beautifully evokes van Gogh's love of color while adding his own original and contemporary twist. $25. Please contact the store for more information.
(SOLD)
Mochi Mochi No Ki by Jiro Takihira and Ryusuke Saito
Jeff says: Mochi Mochi No Ki by Jiro Takihira and Ryusuke Saito was first published in 1971 by Iwasaki Shoten and has been a favorite in Japan ever since. As the cover art suggests, it is about the special relationship between Mameta and his grandfather--a frequent and important theme in Japanese children's literature. The woodblock art in this oversize picture book is spectacular, rich in color and full of action. This is a new copy in mint condition. $21.00. Please contact the store for more information.
(SOLD)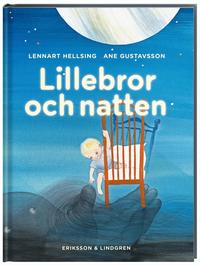 Lillebror och natten by Lennart Hellsing and illustrated by Ane Gustavsson. (Eriksson & Lindgren, 2009) $16.
Jeff says: Lennart Hellsing, born in 1919 and now 95 years old, is one of Sweden's most popular writers for young children, but is scarcely known outisde his own country because of his chosen genres, which are humor, poetry, and nonsense writing - all very challenging to translate successfully! In this book, the title of which means "Little Brother and the Night," a boy reflects on all the creatures who live under his bed. Do they ever sleep? His older brother helps him deal with his fears. Hellsing is the author of over 100 books for children.
We have a like-new copy of this book at Bookends & Beginnings. For more information or to purchase, please contact the store.
(SOLD)
Anno's Journey VII (in Japanese) by Mitsumasa Anno. (Fukuinkan Shoten, 2009.) $25.

Jeff says: This is the seventh book of the famous "Anno's Journey" series--in the original Japanese. It takes the reader out across Asia, upstream along a great river, quite like the Yellow River in China, but along it there appear historical places such as Dunhuang and the Great Wall. We also see everyday lives of ordinary people; fishing, shopping at a market, a wedding and a funeral.
Anno won the Hans Christian Andersen Medal in 1984 both for his artistry as well as for his meticulous attention to historical detail. Each book in the "Anno's Journey" series is a complete history lesson, uncluttered by words. (The Japanese explanations for each page are at the end of the book.
(SOLD)
Blumkas Tagebuch: Vom Leben in Janusz Korczaks Waisenhaus (English: Blumka's Diary: Life in Janusz Korczak's Orphanage).Written by Iwona Chmielewska. Translated into German from the Polish by Adam Jaromir. Langenhagen (Germany): Gimpel Verlag, 2011. $25
This large format picture book, in our international children's book section, was a finalist for the German National Children's Book Award in 2012. It introduces, in words and in haunting, subdued illustrations, twelve children, each with their respective personalities, hobbies, and most treasured possessions, growing up in Dr. Korczak's Jewish orphanage in Warsaw before the Holocaust. It also introduces Janusz Korczak himself: his emancipatory philosophy and kind and respectful manner, allowing each child to grow in a loving environment. The concluding chapter of this story is referred to only obliquely: When the children were transported to the Theresienstadt concentration camp, Korczak insisted on going with them—and did.
(SOLD)